This month's spotlight is on one of our trainers here at OCRD and, coincidentally, our poster girl for the game on April 10!

---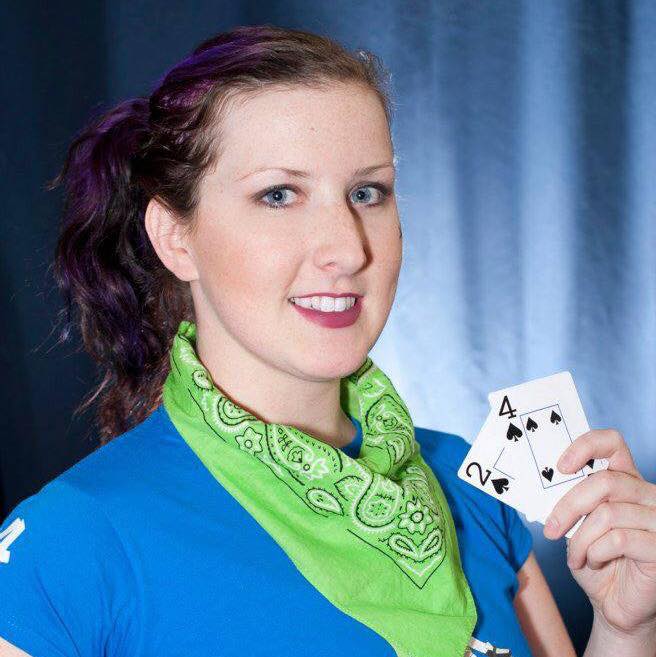 Name: Kay-os
Number: 24
Team: Dirty Harriets, Near Death Stars, and Oil City Derby Girls (travel team)
Member of OCRD since: April 2014 (almost exactly 1 year!)
Give us a quick 'n dirty rundown of who you are.
My name is Kay-os. I am a blocker and the captain of the Dirty Harriets.
Is there a story behind your name/number?
My number has always been #24 in all the sports I've played throughout my life; volleyball, basketball, etc. It just felt natural to stick with it for derby as well. I picked the name "Kay-os" because it kind of summarizes my lifestyle. I always seem to have a thousand things on the go and usually over-commit and dive into things head first, but I wouldn't have it any other way. Having nothing on my plate is boring and relaxing doesn't come easy to me. I thrive on a busy, jam-packed, chaotic schedule and suspect I will always keep it that way. Obviously the "Kay" portion of my name is because my name is Kayla.
How, when, and why did you get started in roller derby?
I have been playing roller derby since May of 2012. This is my fourth season. Strangely enough, I watched "Whip-It" and the next day went to buy some sunglasses and the optician who was helping me caught on to the fact that I was new in town. She then ran into the back room and brought back a recruitment poster and told me she was the President of the Gold City Roller Girls (Timmins, ON) and wanted me to come. I was extremely hesitant. I felt like I was not "roller derby" material. I wasn't tough enough. I wasn't strong enough. And I certainly couldn't walk into a room of tough chicks without knowing anyone. But, something inside of me knew that I'd regret it if I didn't go. So I went and have never looked back. I used to always feel like something was missing in my life. I had no real hobbies or interests that kept me busy. Now I have something that I am passionate about and dedicate pretty much all of my free-time to.
Why did you pick OCRD for your league?
My partner (Hyde) and I moved to Edmonton from Ontario and wanted to play together like we had back home. It was the natural choice to pick the only co-ed league in Edmonton. But, we soon realized that not only was OCRD the only co-ed league around, but it was the best league and we absolutely love it here! We were welcomed in immediately and have settled in quite nicely I'd say.

What position do you like to play the most and why?
I like to block. Jamming terrifies me and, until I can get over that, blocking is my happy place. I really enjoy the strategy and teamwork involved and love playing offence and defense at the same time. Jamming is awesome, but I prefer the strategy of blocking.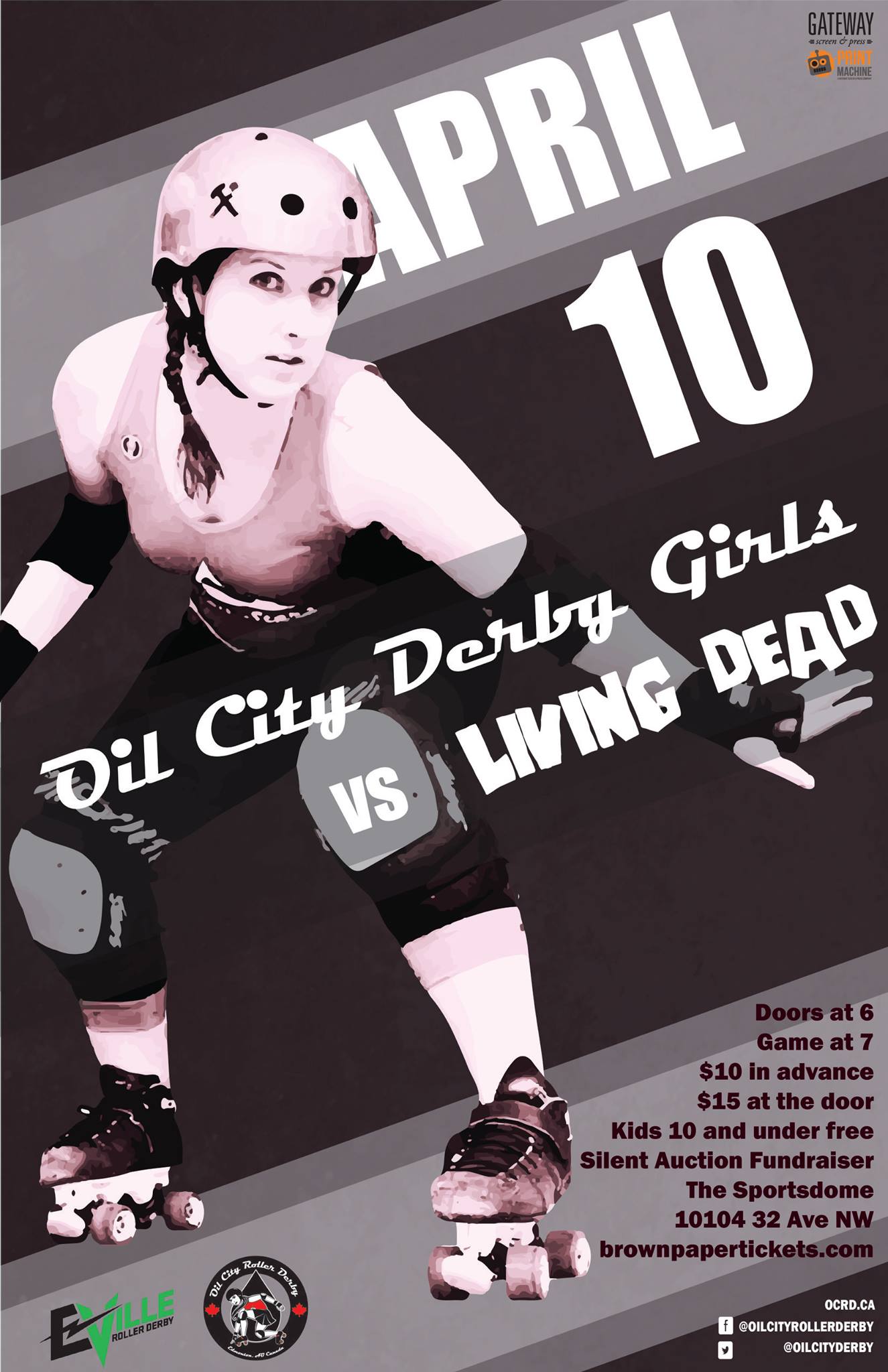 What is your best derby memory?
RDAC Eastern Regionals in 2013. The Northeastern Ontario travel team I played for flew 1300km to Windsor, Ontario to compete in this tournament. We ended up playing 5 of the 10 games in the tournament and 3 of them were back to back (literally, with about a 10 minute break in between). We were completely exhausted and running on adrenaline and Red Bull. We went into the tournament having no idea where we stood and ended up taking 2nd place. It truly felt like 1st though (because the 1st place team was like Gotham compared to anyone else in the tournament). If RDAC hadn't folded the day of the tournament (yes, really), then we would have advanced to finals. The feeling was like nothing else I've ever experienced. But more importantly, this is where I met Hyde. He was the head ref for the tournament and the second I saw him yell "No pack!," I knew he had to be mine. I asked him out that night, although he didn't really catch on right away, and we've been together ever since!
Any plans or goals for your future in roller derby?
I plan to tryout again at the next round of Team Alberta recruitment. I would love to be involved in a high level competitive team with so many amazing skaters to learn from. Team Canada is a very far away dream. But I can dream…
Step 1 is to seriously improve my fitness off-skates. After three seasons of derby I've learned that I can't take it to the next level without putting a great deal of focus on what I do off the track.
Have any advice for future skaters (fresh meat)?
My advice to new/future skaters is that you CAN do this! I was the person who laughed out loud when I was handed a recruitment poster. I thought to myself "I'm not tough enough for this" and didn't think it was my scene. You can do this.
Also, that derby will take as much as you are willing to give. So figure out how much you want to give and make that clear to everyone around you. Some people just want to get some exercise, some people want to play for Team Canada. It's easier for everyone if we all know what eachothers goals are. If you want to be the best, we've got some amazing men and women here to learn from and they'll tell you, you need to do workout outside of practice to excel. If you want to play for exercise and meeting new people, there is absolutely a place for you here too!
But my biggest piece of advice is not to compare yourself to anyone but yourself. Truly. You can't step onto the track after one month and be disappointed in yourself because you don't look like Wingman or Clumzy Luver yet (name drop to my peeps, haha). Some of us have been skating for 4+ years. Set baselines for yourself. Compare your progress on a monthly or quarterly basis with laps, times, technique, etc. Keep a journal of what you're struggling with and what you rock at. Don't be afraid to fall. It's really not a big deal and, I assure you, nobody cares or probably even looked twice.
Oh and, of course, Oil City is the the best league ever. Obviously.